It was an unusual weekend. I had spent most of the past year excited for the annual cruise down the south west coast of Florida. This event is mentally and physically demanding. It requires a lot preparation and determination to finish. There are thousands of things along the way that can take you out of race. Some are prior to the start like work and family. Along the way it can be equipment failure, fatigue, injury or even illness. But with all the preparation I never anticipated the event being canceled by the Coast Guard and getting news that we were ordered off the water.
2015 started like any other year. All was going smoothly for me. I had plans to paddle with Danito for as long as possible. I was able to ride with DieTired and DieTired2 to the start. We shared a camp site in Fort Desoto on Friday night. The biggest news was that the raccoons were thankfully gone and one WaterTriber was not going to make the event. He was hospitalized due to a heart issue. I went to dinner with a bunch of Tribers from Orlando and had an excellent pre-race meal. All was going according to plan.
Saturday morning roll call seemed normal. Some folks were still organizing their gear but conditions looked good. I had listened to the marine weather radio around 5 AM and they were calling for 15 – 20 and stated "small craft should exercise caution" which I took to mean that the potential for rough water was likely but there was no small craft warning in effect. Basically for me and my canoe I would have to proceed cautiously.
When I got to the starting beach the tide was very low. Most likely the result of the wind creating a stronger than usual tide. Since the launch was on the leeward side the water looked calm near shore but when I looked at a powerboat way off shore heading west on plane it was clear that there was a good chop on the water.

Quadcopter video from a spectator confirms conditions looked almost too good at the launch. It was a different story further off shore.
The first half of the bay crossing was fairly uneventful. Danito and I were paddling within 100 yards of each other. As we got further across the conditions continued to build. We were running 1 meter Flat Earth Kayak Sails or FEKS. I was mostly sailing. I would occasionally paddle and brace a bit in the bigger gusts. The wind gusts were strong enough to be causing my deck to flex under the load. When I saw that I eased the sail out and bled off some of the speed and power. Most of the time I was consistently making 4.5 – 5.5 knots which is moving quite well. Its about then that I grabbed my phone and took my first video.
It was soon after this that I happened upon the first capsize assistance being performed. I didn't know the guy who had rolled. There was already a veteran Triber lending assistance. I acted as the 2nd assist by collecting his paddle and float nearby and then pulling up along side the 1st responder. We were able to get the guy situated and then proceeded on our way.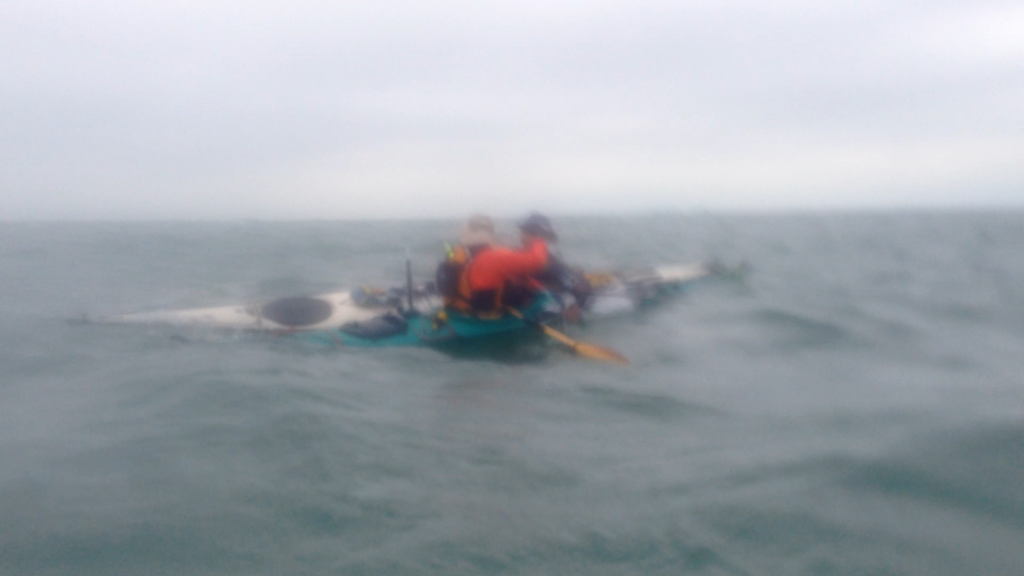 Green kayak being assisted after wet exit and re-entry. (Blurriness is from water on the lens)
It took me by surprise when I looked to my right and saw another Triber was in the water and already getting assistance. It was SandyBottom being assisted by FeralCat. As I approached she skillfully got back into her boat and with one of us on each side of her we proceeded to pump her boat out with two hand bilge pumps. This one caught me off guard because the person who went over was one of the most experienced and skilled kayakers that I know. I am looking forward to reading her account of what happened but my speculation is that it was a combination of the conditions, a high performance narrow kayak, and very large expedition load.
Updated: Her account is now here:
http://watertribe.org/forums/topic/sandybottom-ec-2015-report
Conditions were getting worse as we got further across the bay. I had anticipated this. My plan was to head east of my intended crossing point so that first and foremost I wouldn't miss the ICW on the other side. Second, as the conditions worsened I would be able to turn so that I would have following seas instead of waves hitting me on the beam. That plan pretty much fell apart the second time I gave assistance because were standing still in the water long enough to drift west of my intended line.
How bad were the conditions out there? I really don't think they were bad at all. Don't get me wrong it was very windy and the seas were up but not anything that I would call storm conditions. It should have been manageable for anyone who was an expert in their small boat of choice and in good physical condition. Those that I saw roll and performed a wet exit did great jobs recovering. I am confident they would have been fine on their own too. The assistance we provided was just that, assistance, not a rescue. The others that I heard about after the race were different cases. An I550 sailboat capsized near Anna Maria Island and one account that I heard from a person with 1st hand knowledge of that boat was they hadn't taken appropriate caution which resulted in the boat going over. I spoke with the person who radioed it in. He was on channel 16 requesting a commercial tow for them because there wasn't an emergency and everyone was ok but the Coast Guard responded anyways.