Updated 1/1/2014, Happy New Year everyone.
Danito and I made plans to paddle over the holidays. He hadn't seen my local waters so we made plans to paddle the Wekiva River from Wekiva Island to the St. Johns River and back. The distance is 30 miles round trip if you don't take any unplanned detours. Also ran into KayakVagabond out there. Good time was had by all.
Danito at the start.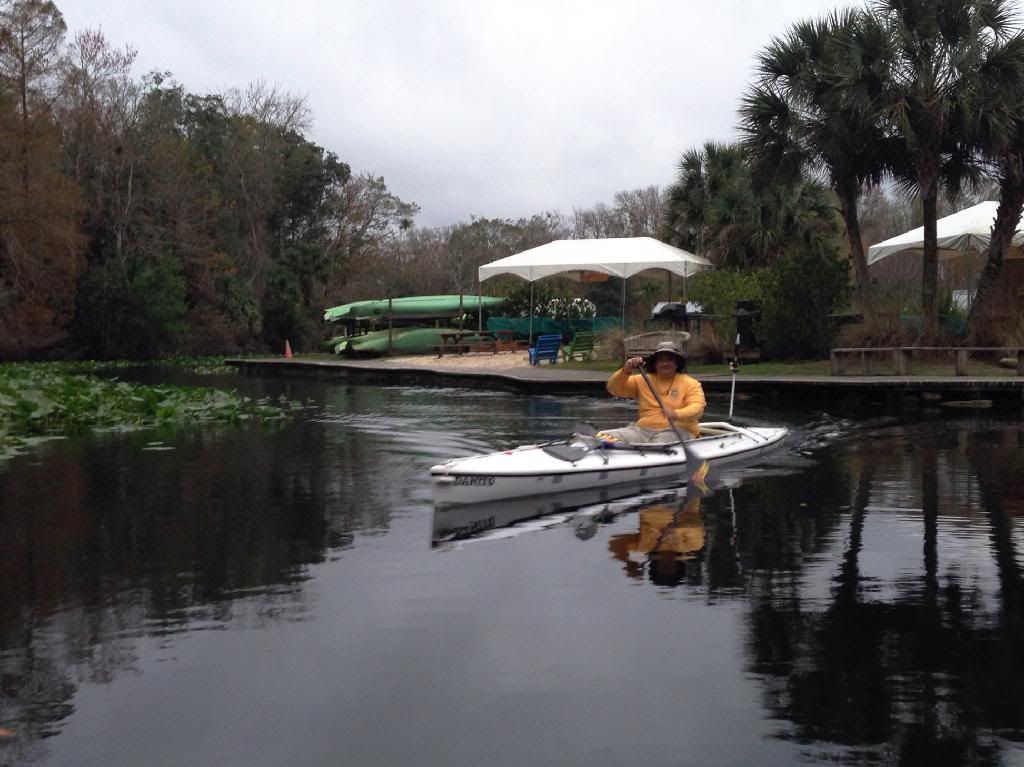 Going under the 46 Bridge with a light rain coming down on us.

Katies Landing Stop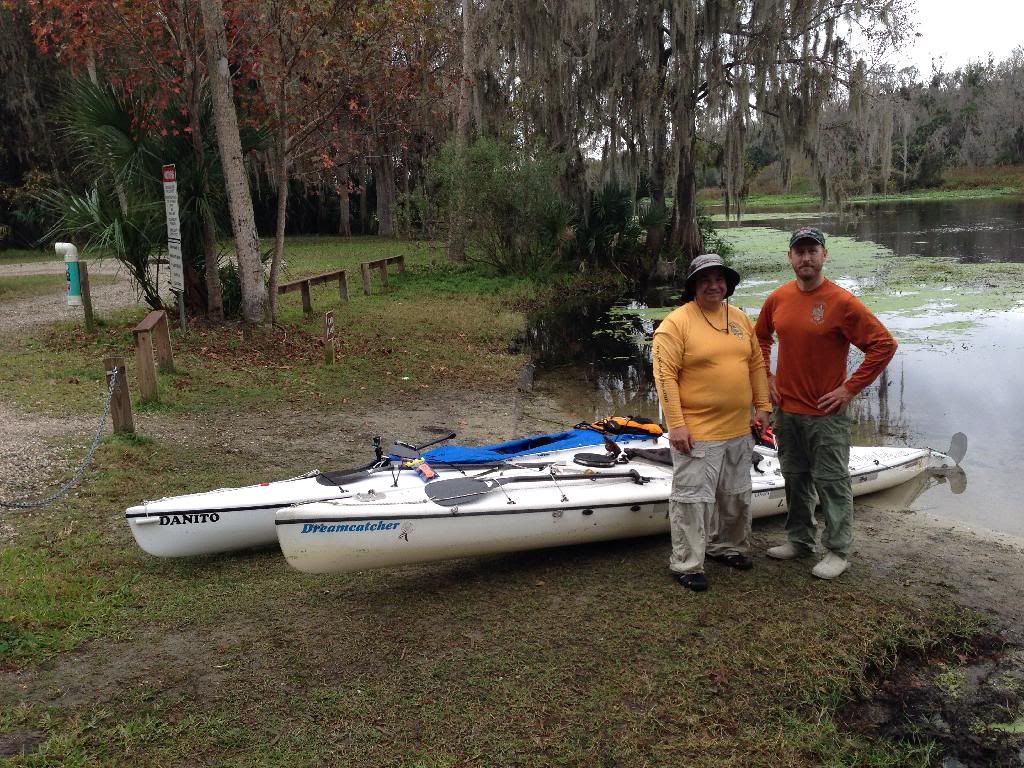 Nice shot of the boats at Katie's Landing. Danito's Kruger Seawind on the left. My Kruger Dreamcatcher on the right. We chatted some about the differences. They paddle the same. Its the same hull. Its really a matter of which deck layout you prefer. There are advantages to having a wide open cockpit. Entry and exit are far easier. Access to gear is much more convenient. The fully decked Dreamcatcher has a cool factor to its look. Its easier to get a spray skirt on the boat while on the water. The bulkhead and lockable rear storage is a nice feature for many reasons. Both are very capable canoes.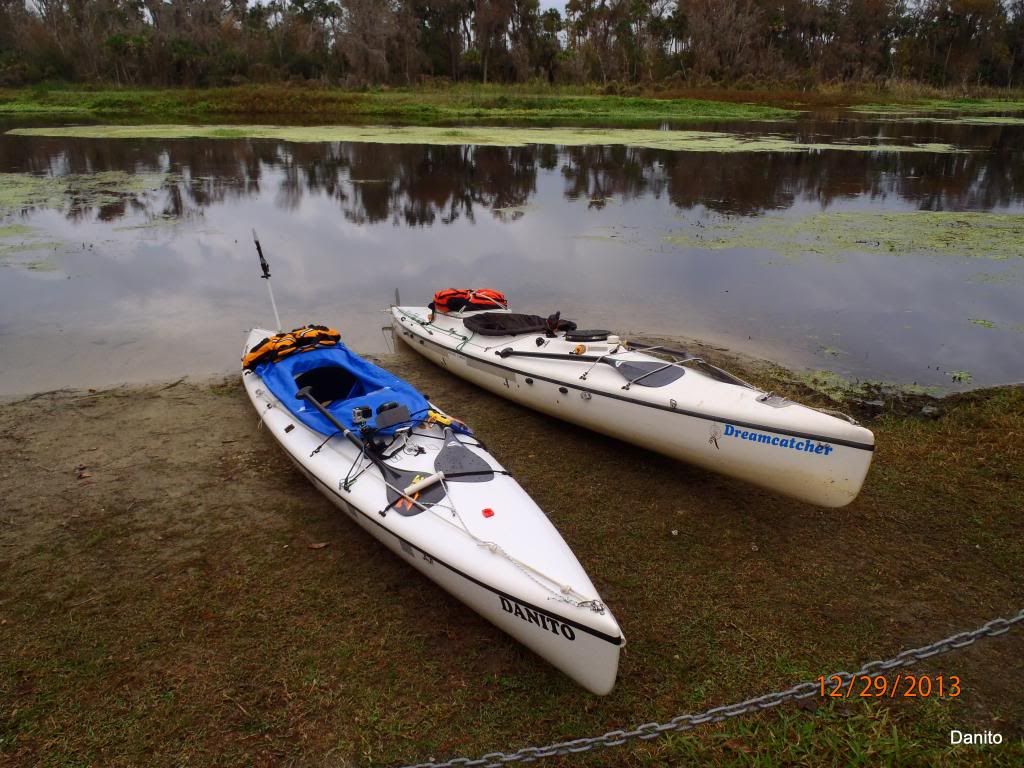 Half way point on the St Johns. Marker 96 is at the mouth of the river. You feel like you are half way but the trip has just begun. Now its time to paddle back up river.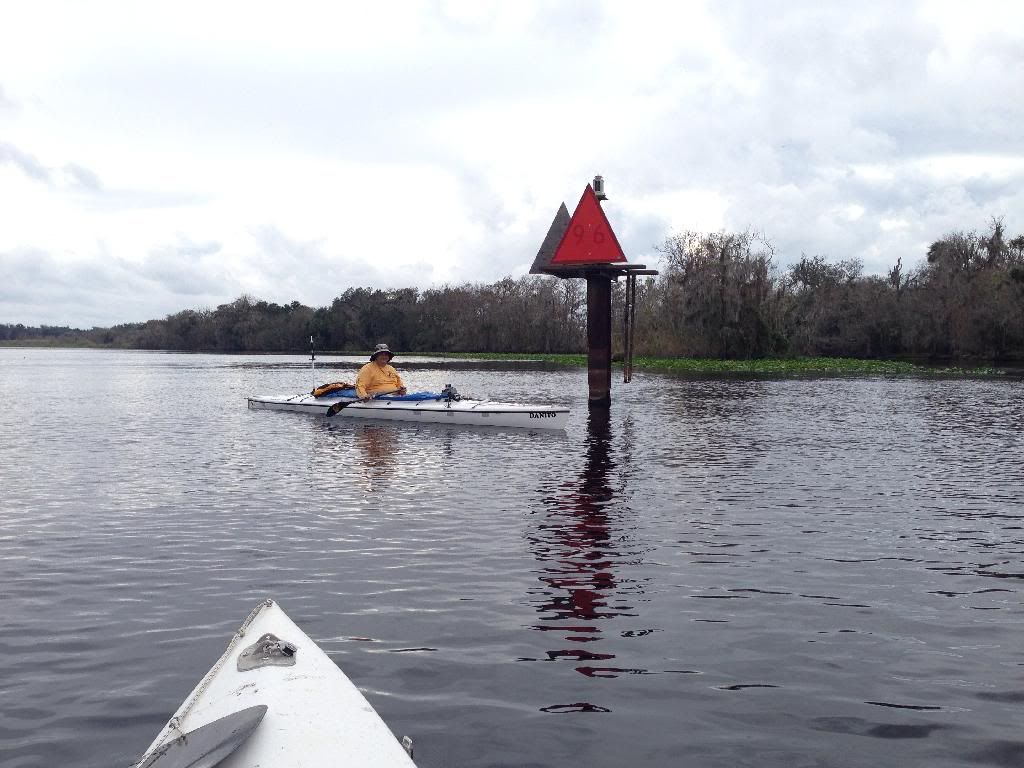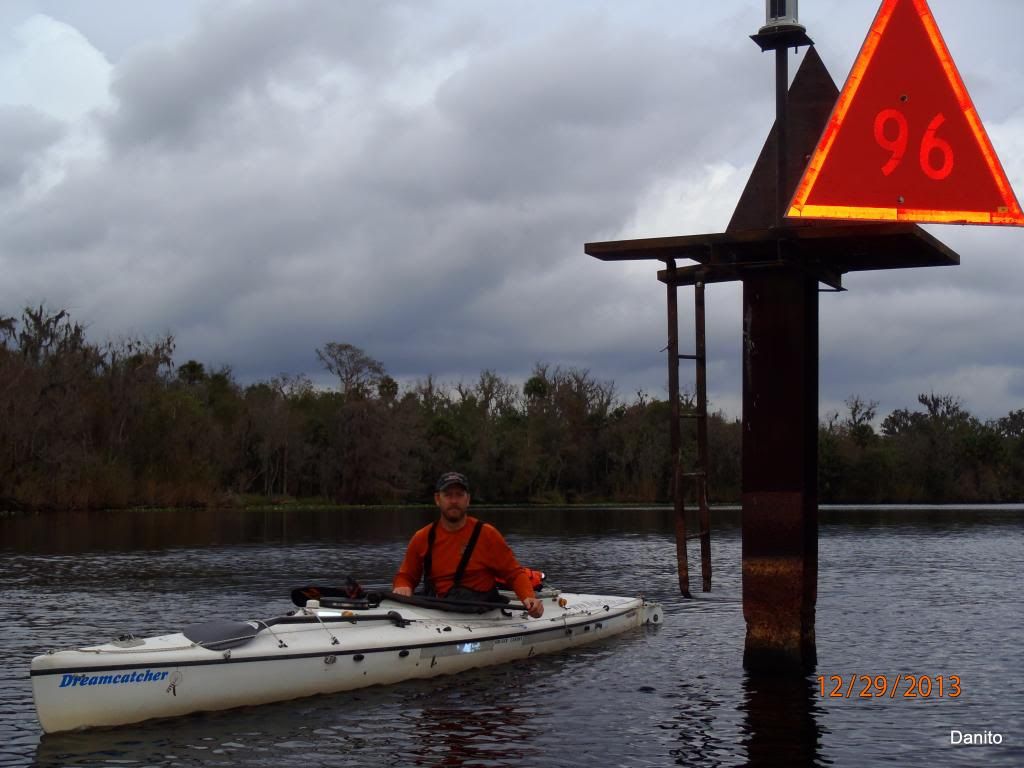 Ran into Greg Stammer aka KayakVagabond. He was out there to get in a workout. A little about Greg. Great guy. Super talented paddler. Heck of an instructor. Got to spend some time with him and other WaterTribers this summer at the forward stroke clinic for kayakers this summer. He was one of the instructors and I learned more about paddling that day then at any other time. If he is speaking or teaching in your area its a must attend event. Another thought I had is that he is one of many "rock stars" in WaterTribe. All of them are unassuming folks but the talent level and skills are some of the best in the world. I have really enjoyed getting to meet everyone.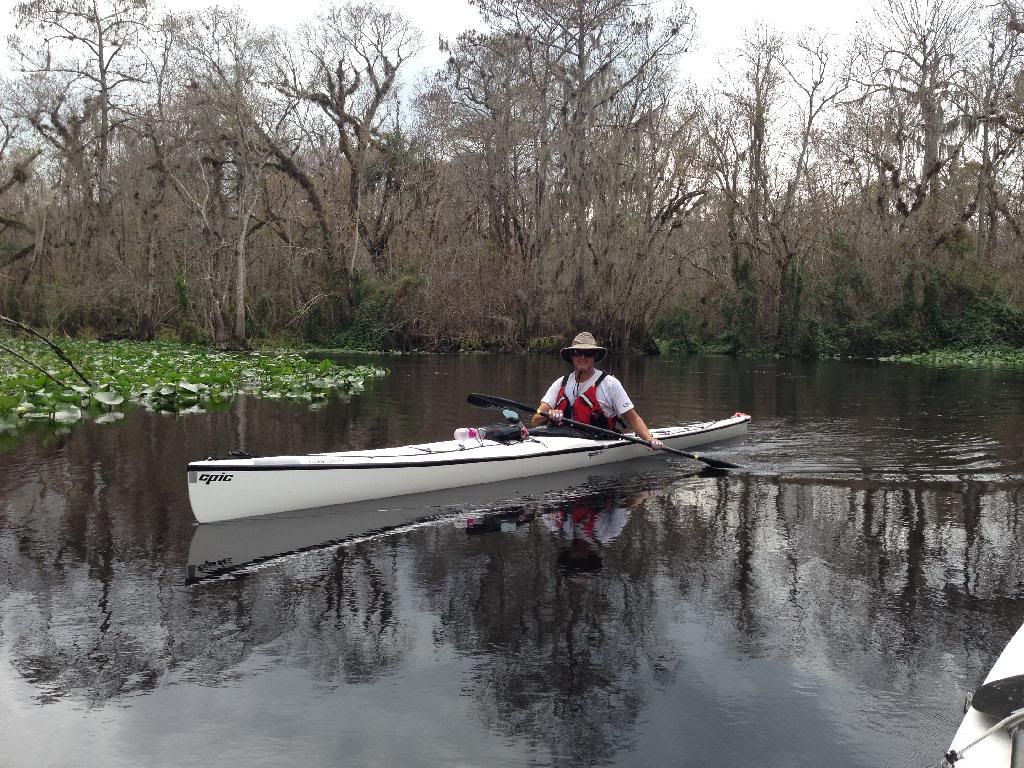 On the way back I started to ham it up a bit. I was taking short cuts through lily pads and and at one point went up a dead end and portaged over land. Unfortunately this caught up with me. I ended up spraining my left wrist. Most likely due to some hard paddle strokes while fatigued. Not smart on my part. Its 3 days later now and the wrist is doing pretty good. My left should is not. The funny part is my shoulder didn't hurt during or right after the paddle. It was good until about 36 hours afterwards. Now I have issue with range of motion. I cannot lift it or go across my body without severe pain. Hopefully it will heal in the next couple days….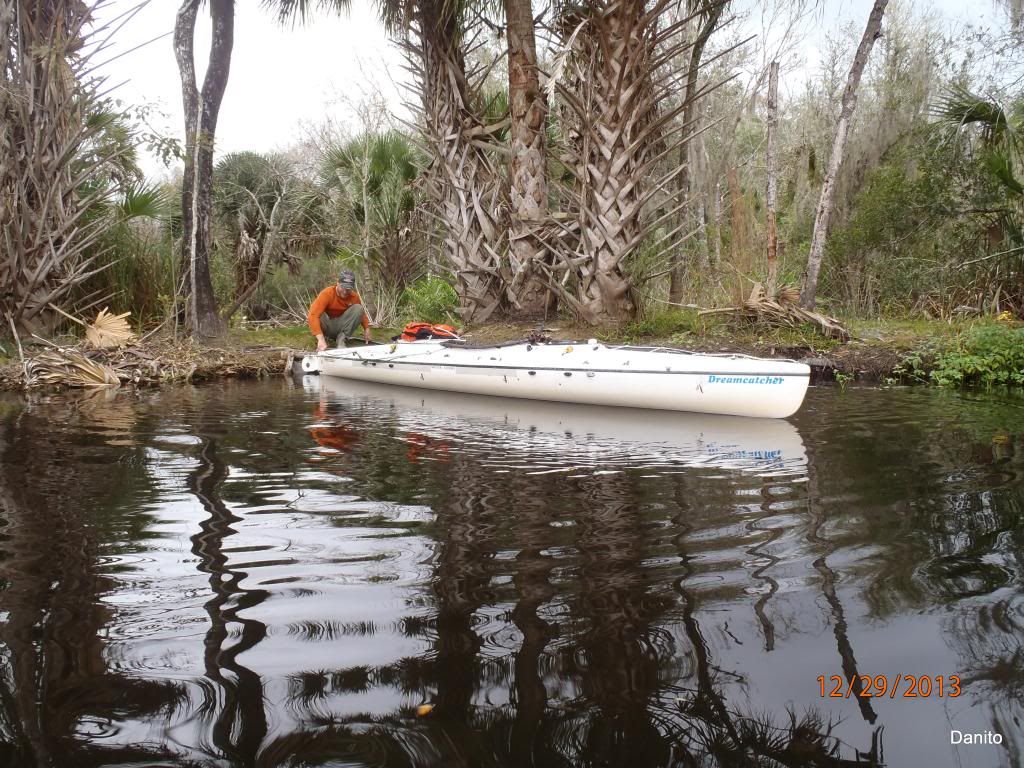 Here I am on the way back having a Monster and checking my SPOT OK message. The SPOT 3 has been working flawlessly so far. So much easier to use than the old 1st generation SPOT.
And a final shot. Total time on the river was 9 hours 45 Minutes. We had less than an hour of stopped time. Most was at Katies Landing on the way down. We got back to the ramp with about 1/2 hour of daylight still left. By the time we were done loading the boats it was dark out.
Here is one of Danito's videos.

There are more pics at Danito's Picass site. He also took a lot more video. Its up on his YouTube channel.