It sounds like several of us are in different stages of rigging the Flat Earth Kayak Sail on our Krugers, so I'm sharing my experience so far. I don't think my current setup is the best one yet, but so far I like it and I'm happy with the sail.
I also have a PAS and a Balogh 36 HP Sport sail rig. I've used the two of them together before but have found it kind of hard to keep the PAS tamed with all the lines going everywhere. The PAS is pretty cool for down wind or beam reaching, and the Balogh is great all around.
I rigged my FEKS so that the mast base is about 205 cm forward of the midline of the seat. I also added a stainless pad eye on each side of the mast base, and am attaching the sail to the eye that is directly in front of the cockpit and the eye that is on the nose of the boat, so I have a 4 point connection. Here is a picture: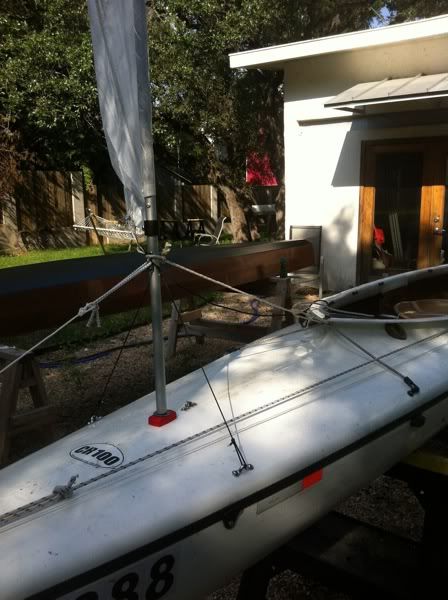 Here is a link to a PhotoBucket album with additional pictures:
http://s139.photobucket.com/albums/q314/jerskine99/FEKS%20on%20Sea%20Wind/
The other pieces I mounted for this rig are the cam cleats on each side of the cockpit:
This weekeng I paddle/sailed this rig about 25 miles or so on mostly open water or wide channelized sections of Lake Travis. On Saturday the wind was around 15-18 with gusts over 20. I found that I could sail with no problem but did have to sheet out sometimes or round up using the rudder on the boat to handle the gusts. Even when sailing I kept paddling which added to my stability. I was surprised how much I could sail upwind compared to the PAS. I did feel like I was slipping a fair bit when I tried to push it upwind very much (using my stock Kruger rudder instead of a larger sailing rudder). However by paddling at the same time I felt like I more or less made up with this slippage and was gaining ground faster than paddling alone. I forgot to charge my GPS so I have no speed measurements. Honestly I expected to just fool around with the sail for an hour at most and then move on to other things, but I ended up staying on the water almost all day playing around. So I guess that is a good review in itself.
Another thing I found is that I pretty much put the sail up and left it up rather than taking it up and down a lot. Instead of sheeting the sail in and out a lot I would adjust course with the rudder as needed to adjust for shifting wind.
So far I have two specific feedbacks about the way my sail is rigged right now:
1. I would probably mount it even farther forward. There is plenty of room up there still and I think it would get it farther out of the way when paddling with the sail stowed. Also, where it sits right now it would not be usable in conjunction with the Balogh because the boom of the FEKS would hit the mast of the Balogh. I think it would be possible to use these two sails together quite nicely, but I will need to try setting them both up at the same time sometime soon and see if there would be enough clearance if FEKS was mounted farther forward.
2. I will move the cam cleats farther back towards my seat so they are more easily reachable and manageable from the cockpit. Where they sit right now they are too far forward. I was trying to keep them out of the way of everything, and though I achieved that, I think the ergonomics are all wrong.
I'll also mention that if you look at the pictures I think much of my rigging is kind of temporary. I plan to replace the black side stays with some spectra cord that is a bit longer, and my rear stay is just a piece of cord that I had laying around. I don't like the pulley for the main sheet and will probably put a fair lead at that spot instead. (the pulley was supposed to mount at the front but I don't need it there)
Someone asked about a leeboard. I don't have one for this sail (do have one for the Balogh) and don't intend to use one. I think what I would do is to use the sailing rudder in higher wind or if I was focused more on sailing than paddling, and that would give a fair bit more lateral resistance than the standard rudder. I'm sure it would be possible to rig some outriggers and a leeboard with this sail, but that would be kind of overkill.
One last thing: I was a bit worried about stability in higher wind. I think the wind on Saturday was kind of pushing it, and I did just to see what might happen. (warm weather, safe environment, etc) I was impressed with how the sail would spill wind in gusts, and I was pleased with how the boat would handle the side to side pressure. I observed that the bungee connection to the boom would flex in gusts allowing the boom to rise and sheet out slightly. This would spill quite a bit of wind in a good way without seriously depowring the rig.
So, all in all, fun weekend sailing with the FEKS and I look forward to learning more about this rig!