Hello Watertribers,
The past couple of years, I have gone to Fort Desoto to watch the start of the Everglades Challenge and have really enjoyed it. This year, I want to do more watching!
My tentative plan is to watch the start as usual from Fort Desoto beach, or possibly bring a kayak so I can watch from the water. If I try hard to stay out of the way, would there be a problem with a kayak (Klepper foldable or possibly Hobie AI) hanging around just off the beach for the start?
A friend of mine has a rather unique power catamaran called The Cowmaran and we are talking about watching the racers further down the course. We live in Punta Gorda and would just run the boat over to Boca Grande to watch activity at the first checkpoint. We would then put the boat on its trailer and take it to Everglades City, watch some racers down there, maybe spend a night at the Rod & Gun Club, put the boat back on the trailer and head down to Flamingo to watch some more. I doubt we will make it to Key Largo for the finish. There is a limit to my wife's tolerance for my foolishness. ;)
I know that the racers get more and more spread out as the race goes on, and obviously the fast boats would get by us under my proposed plan. So my question for the group is: what days would be best to be around the Chololoskee and Flamingo checkpoints if our goal is to see the most racers?
We will do our best to avoid interfering with racers and the Cowmaran is well-suited to the task. It draws very little water and makes very little wake. We would be available to help out any racers in trouble, if needed.
If you see a funny looking catamaran passing close and taking pictures, that would be us. It looks like this: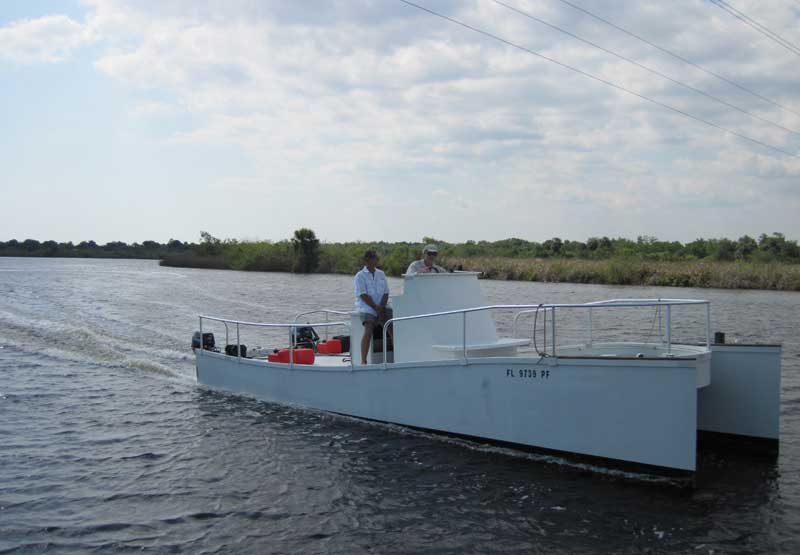 Good luck to all!
Speck Tater