Everglades Challenge Launch 2017 - Coastie & ClamCounter
With jib furled, and mainsheet reefed, we launched from the beach. Behind us was an entourage of support: spouses, grandparents, uncles, aunts, nieces, nephews and friends. Ahead of us was a 300 mile planned excursion to the Florida Keys. The combination of strong northeast winds at our backs and protected calm waters along the coast make conditions perfect for us. For an organized event, including over a 100 other vessels crossing Tampa Bay's major shipping channel in a "Small Craft Advisory" may not be perfect for all. An hour before our scheduled launch, event options were given to the skippers - - we may be able launch our vessel from the beach the following day if the Advisory was lifted. However, we would not be able to launch from the beach that day. With NOAA's forecasted strong winds for the next few days we had to make the best decision for our boat, withdraw from the event and advantage of the current NE winds before the following day's less ideal East winds arrived along our southeast course. …. Ohh mother nature.
Our adventure to the keys continued (unofficially), as we crossed Tampa Bay we could see the super lite stud Hobie 16 sailors were closing in FAST. We rounded, Anna Maria Island within a stone's throw of beach goer's now wearing the face of shock and awe as small boats loaded with expedition gear and way too much sun block barreled south. The 60 mile leg to Stump's Pass in Englewood was flat and speedy, we arrived at the channel at 1pm beating our previous years' time by over 2 hours.
Near Anna Maria Island: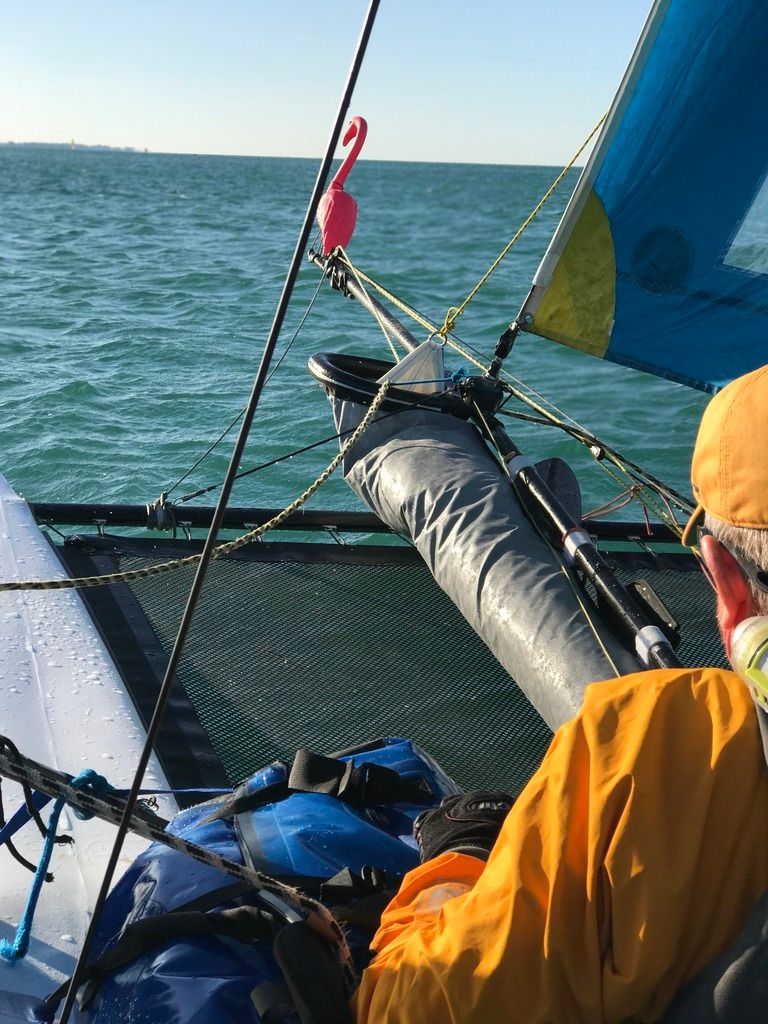 We sailed onward another 20 miles to Redfish Pass in Captiva Island where we found the South Sea Resort marina arriving at 5pm. The marina offered towel service and hot showers (not exactly roughing-it at this point.)
South Seas Resort Marina:
Total miles sailed for day #1: 78
In the morning, the forecast 20-30mph East winds had arrived. We elected to take the offshore/coastal route seeking another speedy protected day along the coast rather than tack through the marked channels to the Sanibel Bridge. The morning's steady sailing along Sanibel's coast was a great opportunity to make use of our new cushiony Captain Chair with arm rests we were testing out this voyage (who said these trips couldn't be comfortable?) We knew the Southern tip of Sanibel Island would leave us in open water 10 miles offshore in less the less than ideal conditions with building waves. From there, we had the option of sailing on a straight course in open water 40 miles south which was put us on land again at Marco Island or tack several miles out of our way to Fort Meyers and continue our protected sail from there along the coast. We decided to tack to the protected coast. Before we could make it to Fort Myers, the East winds delivered the beating we knew we would get. Our first tack to Fort Myers led us into the brunt of 5 foot breakers over the bow. There was no more lounging in the cushy Captain's chair in these conditions. After a few hours of assault there was a loud pop -- a large breaker ripped off the bungee cords that secured our Captain's chair. Needless to say, the chair has been added to Davey Jones' Locker. It was a good chair L. By 3pm we were all surfed out and had made our way along the coast to Estero. While underway, we made a quick google search for an adjacent hotel and found a reservation at the beachside Wyndam Gardens. Again, we landed on amongst beach go'ers now donning the look of shock and awe as we came ashore. At this point we were also sporting the quazi burnt/salty-caked up sunblock look as we made our approach for the hotel's front desk to check-in. As we unloaded our bags from the boat, we watched as SewSew screamed by the coast in his formula one wing sail, then another Water Triber vessel arrived at the hotel by water (it was Nomadic and Roamer), small world!
Nomad and Roamer off Estero: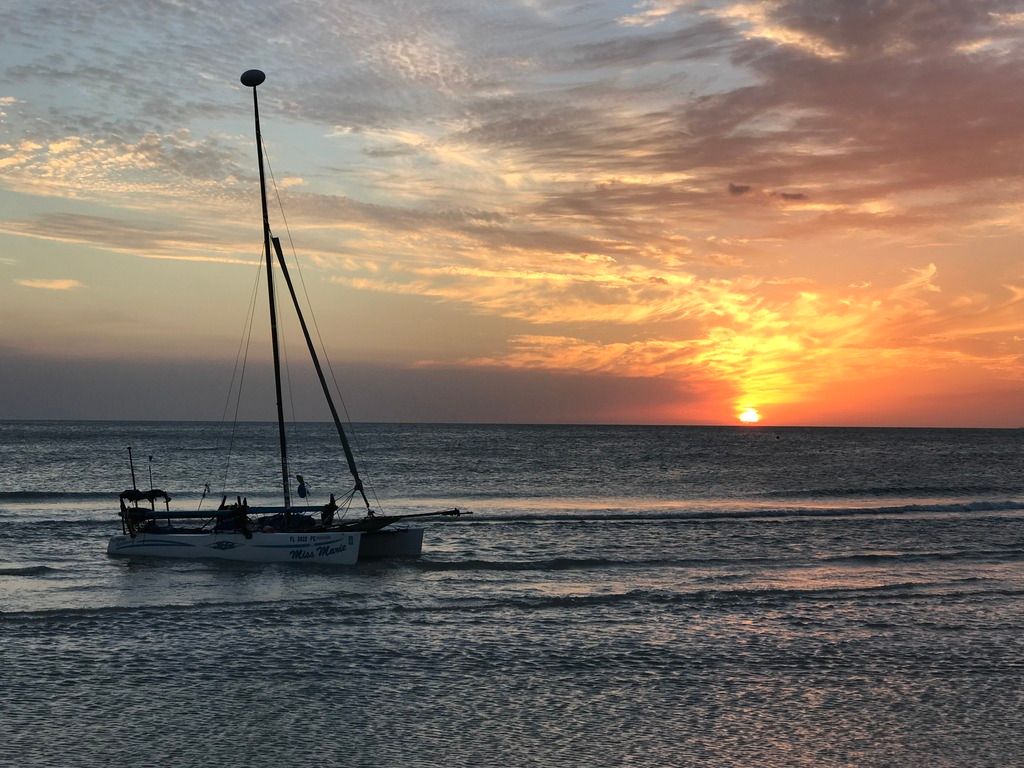 Total miles sailed for day #2: 20
Beginning the third day of our adventure the weather forecast showed more high winds but allowed a small window in the morning for us to make a speedy crossing to Marco Island. From there we decided to enter the 10,000 Islands in the Everglades National Park via Caxambas Pass to avoid open water off of Cape Romano. The pass had a lot of manatees, sea turtles and dolphins as we tacked through to Gullivan's Bay. On the other side of the pass we continued along the 10,000 island and dipped behind Indian Key to hop out and stretch out legs before sunset. Soon after we shoved off from Indian Key, there was another loud pop. This time a clevis pen to one of our two bridle wires holding the mast up had failed. While the other bridle wire was still holding the mast upright, we ran back to shore added a spare clevis pen then rigged an extra spectra line secured with a bowlin around our forestay and front cross bar. ….Back on the road again, we're about as fast as a nascar pit crew at making repairs underway. Still feeling pretty good, and seeing the overnight conditions called for favorable winds we decided to continue sailing south along the Everglades. At midnight we arrived at Shark's river then continued under moonlight in about 2 knots of wind on a run for Cape Sable. We were almost to the Keys!!!!! After scanning the beach at Cape Sable with our Q-beams searching for rogue alligators we decided to hop ashore and stretch our legs again. As soon as we landed we were covered with mosquitoes, even our sails were covered in mosquitos. (It was about 5 am at this point.) Luckily we had no-seeum head nets and dry suits on, so we didn't make any blood donations to the Everglades, this time. They still gave us the hee-bee gee-bees so we got the heck out of there and continued south. We took the offshore route across Florida bay, then made our way through a small short cut at Arsenicker Key and made our final tack to the finish line at Key Largo (but not before getting passed by Sew-Sew the sailing rocket again!) After being on the water for 36 hours straight, we had sailed over 110 miles from Fort Myers to Key Largo. We arrived at the finish line during a picture perfect sunset Tuesday afternoon. What a great run!
Arriving at the finish: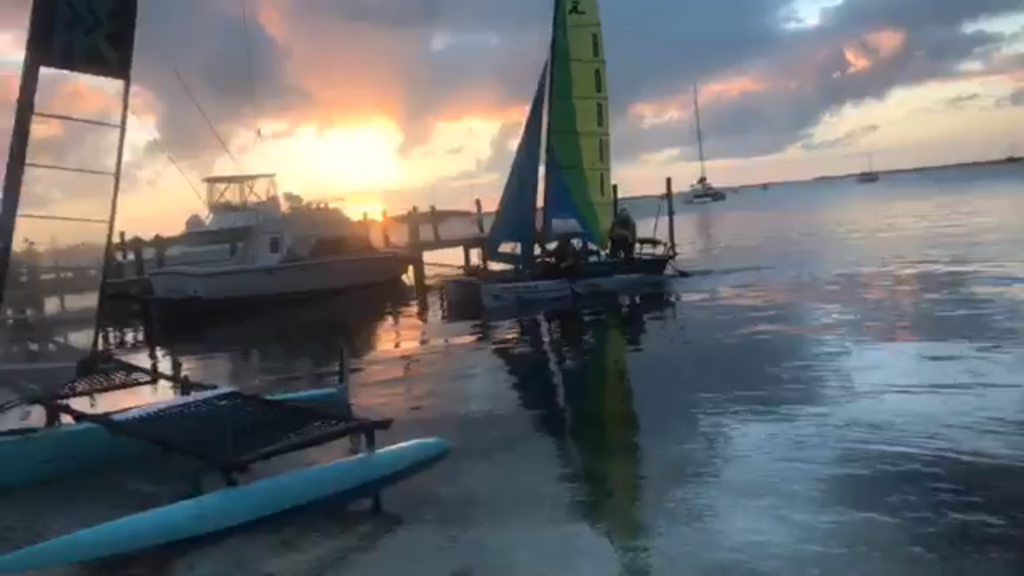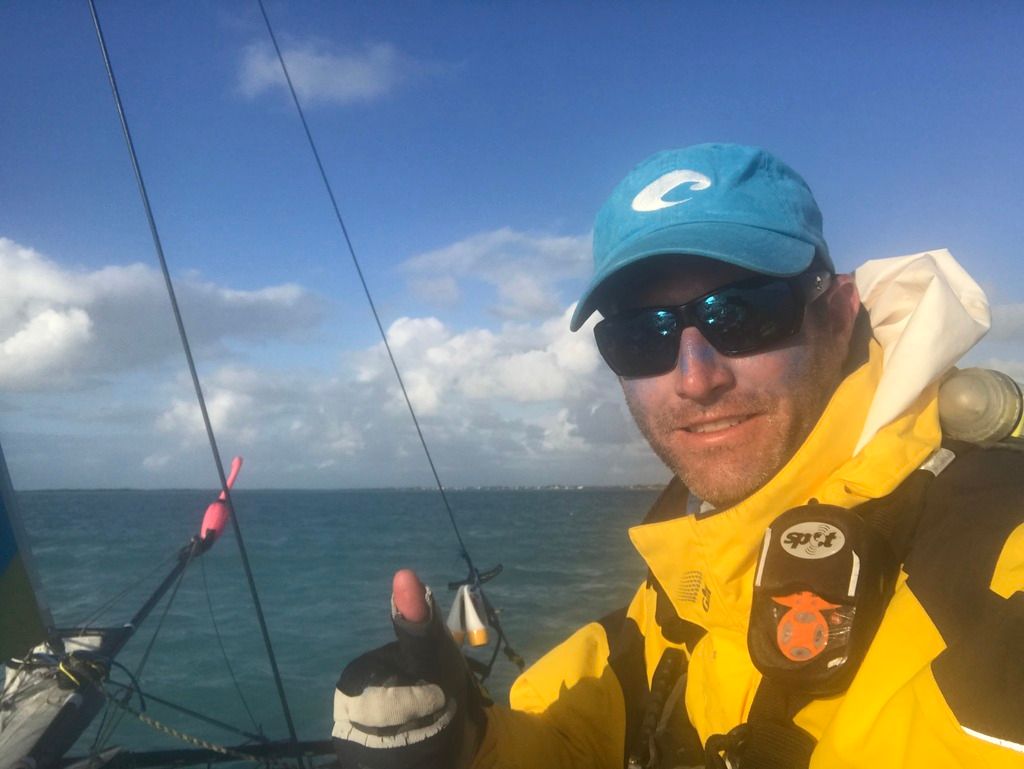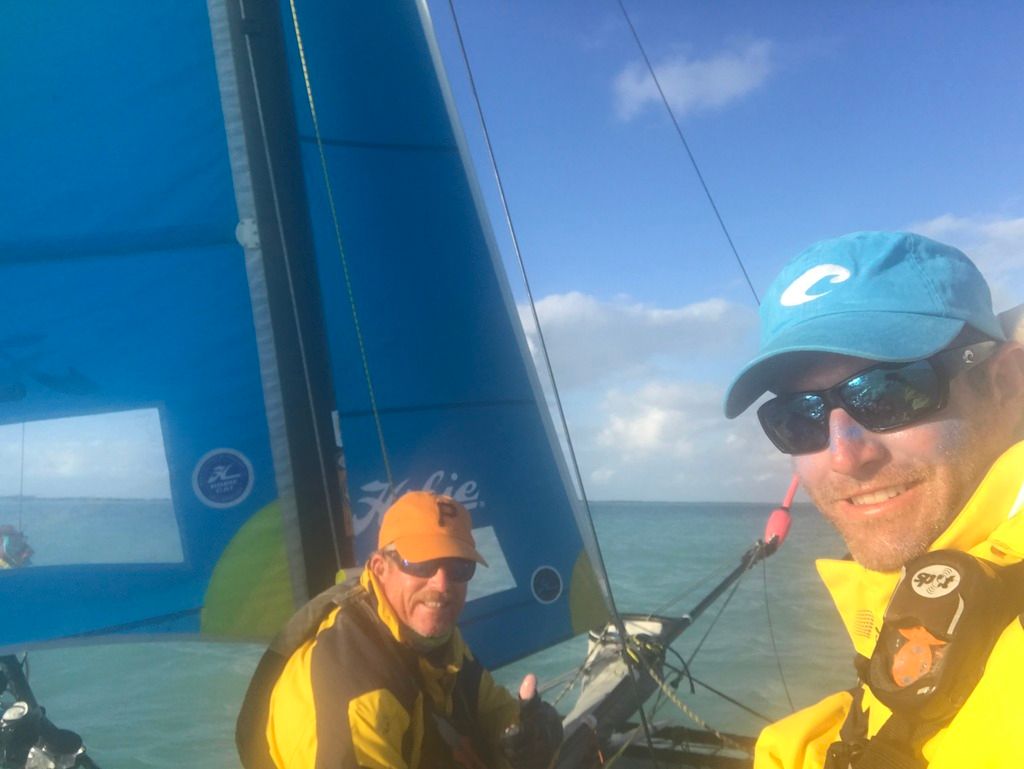 Inspection day: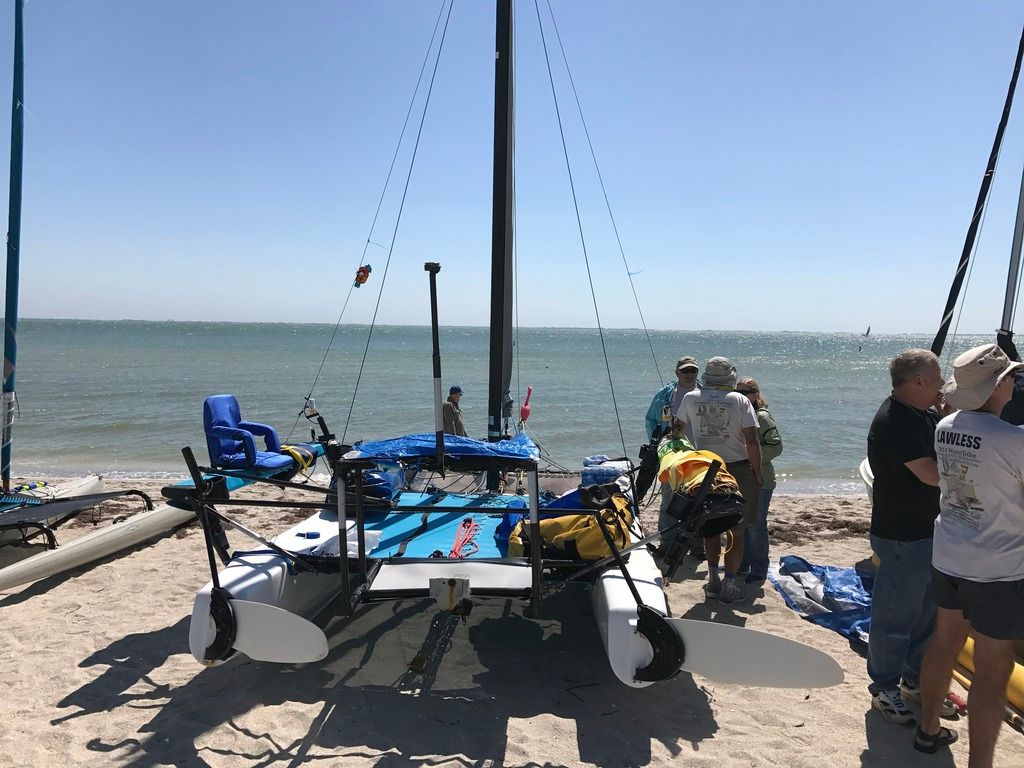 Crossing Tampa Bay: