This is an unabashedly brazen endorsement of the BlackBeard Challenge. It is everything the Everglades Challenge offers in a mid-Atlantic Coastal region, and with a potential of slight venue changes, it will be unique marine/social experience without the outragious expense of Key Largo and Tampa tourist season costs and much easier to manage with the start and finish at the same location. (Warning. That doesn't make the course any easier.) As a former Florida boater, who once lived on the EC waters, I am surprised the BlackBeard North Carolina venue has not garnered a fan based equal to the Everglades event. I urge all to check it out. Ask questions of Chief, HeavilyLaden, Paddledancer and SOS (Alan of B&B) and other former participants.
As for me? Yep, I have a vested interest. BlackBeard 1. Bones 0. I need redemption--a BlackBeard finish.
The BlackBeard is a worthy challenge you may find to your liking. Lets do it!
BE WARNED: The following is a lengthy excerpt from my website narrative of my 2017 BlackBeard experience:
<header class="entry-header" style="box-sizing: border-box; color: rgb(51, 51, 51); font-family: "Open Sans", Helvetica, Arial, sans-serif; font-size: 18px; background-color: rgb(255, 255, 255);">

</header>
I have failed at the Black Beard Challenge, my second WaterTribe event …no. Wait. I did not complete my second challenge is a more accurate statement. Moreover, this I have learned: We all gather knowledge from our missteps, but an error in a Challenge is not a pretty way to learn.
My beliefs come from many experiences and with this latest event I have learned "<em style="box-sizing: border-box;">failure is an excuse". Often, "<em style="box-sizing: border-box;">a reason" for failure is a decoratively veiled excuse. These Challenges have taught me there are no excuses and very few reasons for failure in WaterTribe or life. At my age, or any age for that matter, it is good to know that life is very simple. Do or do not. There is no try.
This reminds me of a WaterTribe Rule I only now appreciate that means the same thing. "There's no whining in WaterTribe." Whining smacks of a search for excuses that can cleanse me of responsibility. (Near as I can determine, this is a quote originally from one of two unstoppable kayakers, female, if it makes a difference.)
This couples nicely with my thoughts <em style="box-sizing: border-box;">"If you're living your learning." Though my interpretation of WaterTribe's version may more closely resemble "<em style="box-sizing: border-box;">If you're dying, you're learning. I am damn sure learning.
Enough personal philosophical musings, there is a story here to tell.
As I was preparing there were specific things about the Black Beard Challenge that should have sent up a few red flags. The most obvious one being the lack of entrants. Another being three times more entrants in the 90 mile version than the 300 mile challenge. The last, being the rumor that the BBC is the hardest of the WaterTribe Challenges. Silly me. Never gave it a thought.
Maybe if I had studied the entrants things would have been clearer. There were others, like me, who seemed to have limited WaterTribe experience. For me, at least, ignorance is bliss.
One entrant has lost a boat out from under him in a Challenge, and speaks about it as an everyday event. When not in WaterTribe Challenges, he travels the world looking for the odd walk-about on foot. Who travels the world to take a dangerous walk in brutal conditions for days or weeks at a time? Dang, I dislike walking to the mailbox, much less trekking above the Arctic Circle, or Peru at breath-taking altitude, or through areas of civil unrest.
Then there is the quiet person. Yeah, we all know, look out for the quiet person cause they are going to be over-achievers in many unknown things. In WaterTribe the quiet one will likely be an Assassin in a Kayak, a shredder of morale, as they power by you effortlessly and say 'ta-ta for now'. Their vessel will be quick, their determination relentless. Size, age, sex are neither distraction nor limitation to them. The flow from their artesian well of confidence should be bottled and sold.
But hey, challenges are not about the other guy. The focus should be within, which explains why I give little thought to there being only five boats mustering at the starting line for the BBC 2017. I also give little thought to my PFD and safety equipment left on the house steps after I launch my boat and await the start. (Sigh). Back at the ramp Chief hands me my PFD (double sigh).
We have roll call on the water. Chief starts the race and we are off. Well, the rowers and paddlers are off and soon out of sight. The sailboats drift slowly off the line with a slight zephyr of air.
Puma and I decide to stick together the best we can and go right up the middle of Pamlico Sound with the forecast of 1 to 3 ft seas scheduled to build into evening as 3 to 5 ft seas, after we reach our turning point for the first virtual checkpoint. There is more to the plan but since the well laid plans of mice and men in a WaterTribe event are less obtainable than a favorable weather forecast or a Dallas Cheerleader—ours is shredded within an hour of the start. I realized this when I see Puma on a 90 degree tack deviation from our intended course. Translation: He is going the wrong way. (sigh, again.)
I struggled with making a decision. Stick with the plan or play it safe and change. As it approaches mid-morning and I look at the large following seas and think. " if these seas are 1-3 what in the heck will the 3-5 ft seas look like later."
Soon after the light bulb flickers over my head and the fickle finger of fate points the way, not my way, but the hardest way possible for a sailing kayak. I must leave the Pamlico route and take the twenty-two mile Pungo Canal and peddle, peddle, peddle. Well, OK then let's do it.
Once in the Pungo River, with lower swells, the wind and water keeps me up on a plane for thirty seconds at a time and I am screaming past Belhaven and up toward the Pungo Cut. It is exhilarating!
I enter the cut and the wind dips down over the surrounding landscape in light unpredictable swirls and only occasionally gives me a few seconds break from peddling. As I reach past the half-way point, at a tall narrow ribbon of a poured concrete bridge, I recall stories of people sleeping on these pilings. I promised Lynn, my wife, I would stop at 2000 hrs each day and camp before dark and I do.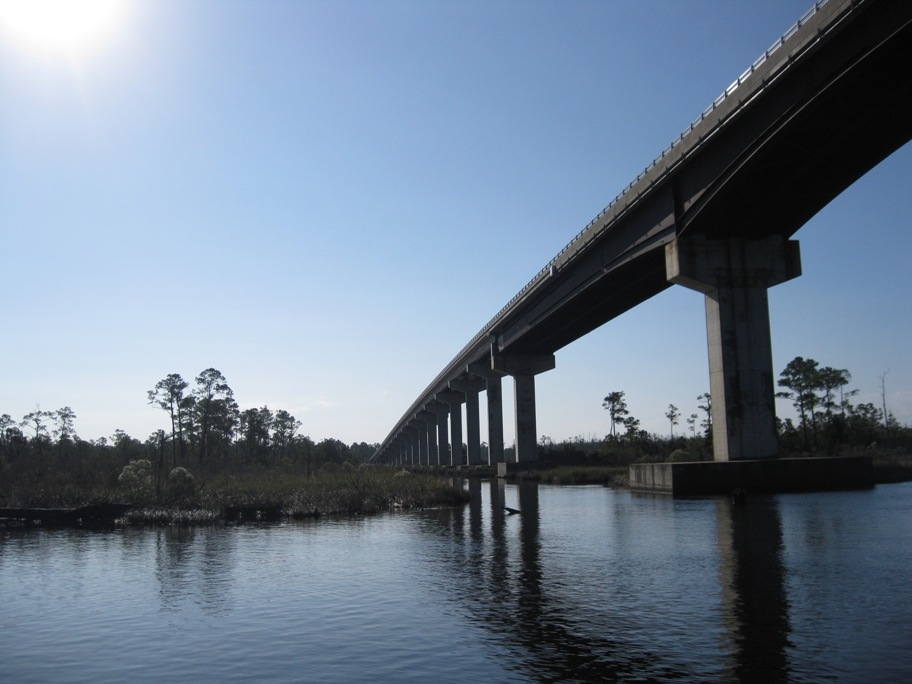 Getting up on the piling is a challenge requiring running my Hobie AI, <em style="box-sizing: border-box;">Skinwalker, hard into the tall reeds, then stand my ladder built haka onto the other haka and lean it against the concrete buttress, and with in- trepidation climb up hoping the angle does not push my boat off. It is a tenuous effort and not very safe but it works. While the hard concrete is not bad, I am not happy with the 100,000 bugs that descend on me. I keep telling myself the whining little bastards are obviously not of WaterTribe, cause, well, they are whining. I rest for an hour. I am going bugshit crazy with the constant whining and I can't sleep. I dribble back onto the boat, reset hakas and stow gear and peddle up the next nine miles looking for a better place to camp. I find none in the dark and realize I should have stopped before the halfway point in one of several good locations.
I trek on knowing my options are to sleep on the boat or keep going to Alligator Marina. My legs are finished with me as I slide out of the cut and a delicious breeze carries me on a reach and then a perfect down-hill run through the rest of the night. I reach the low Alligator swing bridge and pull out my radio to call the bridge tender.
Huh.
When I press to speak the radio goes dead, yet I can still receive. It is false dawn so I use my tactical flashlight and shine it on the bridge tender's window and flick it on and off. It takes a few minutes, but the bridge tender wakes, turns his lights on, looks outside, sees me and starts the opening.
I reach the marina as the lights go on in the store/grill, buy a sandwich, negotiate a boat dock and resting place. I sit down to eat, still suited up for the kayak. A stranger comes up and asks may he sit with me. He is alone and lonely. We share tales. He recently lost his wife and is now doing the Great Loop in an effort to keep depression at bay. We encourage each other as we go our separate ways.
Before sleeping I look to change all my batteries, but I can't find my battery bag. It is not where I put it on the boat. I take all my stowed gear out yet cannot find the batteries. It has been 24 hours without much rest and sleep for a few hours is a priority. After a nap I search again for batteries to no avail, I am puzzled. Rather than fret I buy more batteries at the store and re-nourish my GPS, radio and a headlight with fresh energy even though I have two of everything except radio and phone. I ask the store to radio the bridge and tell him I am coming again. I need to save as much battery life as possible, especially my phone and radio until I can find the extra batteries or recharge them at my next stop.
It is about seventeen miles up the Alligator River and three back to the Cut. I plan to reach the Cut during daylight, where I have learned there is a small beach, easily spotted. I soon discover the wind is blowing 20+ and directly down my throat. It means tacking up hill in a boat that does not like to go to windward in heavy air. I try both sides of the river for a better angle, sailing behind points of land, shallow and deep areas. Nothing helps– except peddling to bring the apparent wind back a bit. Thirty some tacks, peddle assisted, twelve hours with waves frequently breaking over the boat and often me. I arrive at the cut—in the dark. I have sailed and peddled 44 miles to make 20 good. Maybe I should buy a kayak with a sail instead of owning a sailing kayak.
During my tacking adventure I hit or avoid numerous floating, but slightly submerged logs. (I broke two shear pins and suspect they were both broken by the same damn log about an hour apart, the second shear pin after, replacing the first pin and attempting to regain lost ground.) (sigh)
I decide to sleep on the boat near the mouth of the cut west of the channel. With my new anchor easily set I am far enough from the trees and close enough to a breeze that bugs will not bother me. I hate bugs. Worse, I hate camping.
I pull a haka from one side and fasten it next to the other. A soggy hamburger from the grill this morning is supper. I peel off the bread and eat the meat then a Clif Bar and chug down 32 ounces of propel and build another bottle for morning.
I lay my sleeping pad on the Hakas, use a MSR water container for a pillow, hang my hat on the tiller handle, placed my heavily laden PFD on the back of the Hobie seat, hooked my headlight over the mainsheet swivel block and lay me down to sleep. I instantly become entranced and feed my soul on the clarity of the Milky Way. The Way is not milky looking from here. I can see it is made-up of a gajillion individual points. It looks more like 400 fine-grade sandpaper than milky fluid—it is beautiful. The larger stars sparkle like cool diamonds on a black jeweler's cloth.
I fall asleep until a sudden blade of cold white spotlight hits me like a club. A small ship is coming up to the cut. Probably, the American Eagle, a cruise ship I had met on the ICW while cruising.
Stock Photo
I fall back to sleep only to wake up again freezing. I pull off my Frog togs and put on light gear under my Kokotat dry suit and go back to sleep.
Suddenly, inexplicably, I am awake, and in the river, head first. One of the Hakas shifted off one aka dumping my upper half into the river. At least I had on my dry suit. I am annoyed, I reset my bed and cinch down the hakas on the akas and try to sleep again, but my head is not having it.
What did this night teach me? One cannot live on a Hobie Adventure Island without considerable training. What did I lose that night? One large MSR water container no longer a pillow. One very nice headlamp. A daily bag of snacks. One ball cap. One buff and my biggest loss–a couple of hours of sleep.
I reluctantly returned my bedroom into a kayak and headed southbound into the heart of darkness, the Alligator/Pungo Canal. My legs were not as resistant as I feared, and with a little bit of Vulcan Mind Meld they carried me the nine miles to the bridge, without a great deal of protest, arriving early morning.
But something is not right. My legs are ignoring the Mind Meld and screaming torture is illegal in America. I argue with my legs. This is not America. It is the terrifying swamps of North Carolina where escaping slaves either died or brought their legs under control of their bodies to continue. We struggle. Mind and body slowly come to a compromise with my legs based on lies they believe. Then it happens.
I feel it first on the back of my neck, like a light sunburn, a tingling that creeps over my soul, not quite enough to raise the hair. I sense something is behind me. I am not satisfied with a brief glance over my shoulder. I do a Crazy Ivan by peddling in a tight circle. I feel silly for doing it.
Nothing. There is nothing there.
My paranoia responds with a scene from the 2017 Everglades Challenge where I watch two kayakers skim along under docks in Marco staying mostly hidden as they ghost pass me and then watch them close the shoreline of Mangroves and virtually disappear, blending in, while being in plan sight. I speak out-loud to myself. <em style="box-sizing: border-box;">"Just because you can't see him doesn't mean he's not there." I can feel it. I can feel a presence as sure as God made little green apples. The only one I know might be there is HeavilyLaden. The feeling is pervasive no matter how I try to shake it. Periodically, over my shoulder, I check my six. I do another Crazy Ivan—and there he is—in the distance, like a pursuing wraith. My legs are tired, they need a break and I do not like him back there, behind me, coming at me like an arrow and almost as fast.
I stop. Wait. He looks human, but I can tell his strident, no nonsense paddle motion is relentlessly in-human, like a character from Marvels "<em style="box-sizing: border-box;">Agents of Shield". I am being tracked, stalked. He is taking his prey without emotion, simply doing what challenge kayakers do. They eat you alive, pass graciously with a kind word, spit you out as if you were never there, and attack the next obstacle.
We stay together for about ten minutes, me working hard to stay up him working hard to stay slow. It is a brief bond, but one I cherish. I much rather chase than attempt to stay ahead.
Believing the wind will be against us on the Pungo River, we agree, tentatively, to camp on the point just beyond Bellhaven.
Now that I am alone again there is some serious discussion between my head and legs. There is finally agreement to a form of self- hypnosis used in other situations. They do not like it but succumb enough to get us out of the cut and into fresh air where I take advantage of a lopsided beat to windward. I take long tacks and concentrate on bashing through the waves and lose track of where I am. Knowing I can't get too lost in the river between Dowry Creek and Bellhaven, I keep bashing and tacking until off in the distance I recognize the low breakwater protecting the marina at Bellhaven. I cut an angle for the point. HeavilyLaden is not there so I decide to test the path up to the Pamlico River. It is blowing stink right down my gullet. I run back to the point looking for a place to camp when I spot HeavilyLaden coming in. I know his experience would be better at choosing a good campsite so I let him.
I am tired. But do not feel terrible. I get off the boat and reach solid ground, no missteps getting off or walking to the small beach like one might expect—but then everything went to shit.
Every few steps find me out of breath, needing to lean or sit down. Getting up or down makes me dizzy with visual gray outs. I know my body is tired but not so much as to cause these reactions. I keep tripping and stumbling like a drunk and my muscles, the only word that makes sense, is my muscles feel paranoid and the combined effects leave my thoughts scattered and nervous. I am concerned.
I do not want to worry HeavilyLaden, yet still need to let him know there may be a problem. I explain either I am extremely exhausted or I am having a precursor to a heart attack. I remove my dry suit and sit in the water several times in my light undergarments. Soon Danny points out a dangerous looking snake swimming through my personal cooling pond. I stay out of the water. With extreme and uncoordinated effort, I set up my tent. It is exhausting. I fumble through heating water for a meal and finally managed to eat. I tell Danny my phone is short on power and he asks if there is a spare battery. I do not answer, too tired, confused and embarrassed about my behavior to explain about the absent battery satchel. He is worried about me not having enough water. I cannot think well enough to determine on my own. He gives me a jug full.
Danny is concerned. Hell, I'm concerned.
It is full sun when we both retire to our tents agreeing I will review my position in the morning. It is hot in that tent, probably 105 degrees. I asked him how he can sleep in such heat.
He replies, "if your tired enough you can sleep anywhere."
Words in my head said "I can't sl—." The next thing I know it is 0230 hrs and HeavilyLaden is up. I tell him to go on, I am feeling better and that I will wait until sunrise and make a decision about continuing.
He leaves. I sleep.
I get up with the sun but find nothing really has changed. It takes me an hour to bag my tent, pad and bedroll. It takes another hour to get it all in the boat. Yet another hour to move the boat the few feet from high tide line to the water. I am a mess. I still don't know If I am simply exhausted or trying to die.
Nothing is easy about WaterTribe. The wind has been blowing against us for two days, but in theory I will be able to scream out on a downhill reach to the marina.
Um, nope. That aint gonna happen.
I get a third of the way to the marina then a massive thunderstorm blows in and turns the wind, waves and rain directly against me. Fortunately, this makes me crazy with anger and gives me the fuel to do what I need to do. I scream, rage, and most importantly peddle my ass off to reach the breakwater entry.
I beach the boat on a cement ramp and break a shear pin. Soaking wet, I make my way to the Marina Office and attempt to convince the manager I am not totally insane or wanted by the law for being out in the storm and simply need a bit of understanding and some of that wonderful smelling coffee he has. (Finish excerpt)
To finish the story a few days upon arriving home I entered the hospital for a pacemaker installation.
Yeah. I NEED a BlackBeard Challenge finish.
Capt Bones