We shoved off the beach at Fort Desoto just after 7am and made our way across Tampa Bay towards Anna Maria Island. We were well ahead of SwampMonkee & Chainsaw in their Tornado for about 2-3 minutes :) We crossed Tampa Bay with the two Core Sounds (Dawn Patrol and the EC 22) off our starboard with the Hobie 16, Prindle and Tornado ahead of us. After we made our way through Passage Key the wind increased so we heaved to and reduced our sail area. After furling our jib, we decied to go ahead and cover the jib with our snorkel cover. Of course, the zipper tab broke off the zipper car so we spent the next 45 mintues pinching & inching the zipper car down our sail. By this time both the Core Sounds and what seemed like a "herd" of Hobie Islands and various other boats passed us. Back underway we proceeded down the course under full main sail only and enjoyed the NE wind as we sailed along with the "herd." After a little while the winds became more consistent so we removed our jib snorkel and unfurled our jib. We were able to catch up to the two Core Sounds but a pair of "Black Sails" on the horizon continued to slip away, remaining barely insight the rest of our way to CP1. We took observation of the conditions as we approached Stump's Pass and decided our usual straight-line approach would be manageable. The EC22 now off our starboard again made way through the channel markers. Our kick up rudders and self bailing cockpit/trampolines allow us to surf the white water over the shoal at the pass. Our entry was rather uneventful aside from the light winds and outgoing tide. At 1500 we were the 6th boat to arrive at CP1 with the Tornado, Astus, Prindle, Arc and we finally realized the pair of "black sails" that eluded us was Gadget Girls Weta. We ordered pizza and waited at CP1 until 1700 when we received further confirmation the rest of EC has indeed been cancelled. With the excellent sailing conditions, safety gear, food and water awaiting on board Miss Marie -- we were headed to Key Largo. Having experienced the challenge of CP1 and CP2 in both the day and night time we decided to try a new route and head straight for Key Largo. At 1730 we departed CP1 and made our way along the ICW to the Sanibel Bridge. We dropped our mast (self inflicted filter) and walked Miss Marie under the southern end of the bridge then snuck into at marina at midnight for hot showers and slept in a tent on board. Late Sunday morning we headed south passed Marco Island and made camp around sunset at a deserted island. We decided to wake up at 4am Monday morning and head straight for Key Largo. By sunrise we were just south of Indian Key, around mid afternoon we were 14 miles offshore of the North Cape Sable marker. We began our tack to shore where we were greeted by FingerMullet as DancesWithMullet was running a camp on how one should tack near shore while on his way to Flamingo. We parted ways at South Cape Sable and followed the channel markers along the western side of Florida Bay to the ICW at Long Key. Having battled through Tin Can Channel/Crocodile Dragover and Rabbit Key pass in the past we assumed the ICW would be a breeze. Unfortunately, the "breeze" was a close hauled 15mph almost the entire way from Long Key to Key Largo. We did get a chuckle after we ran aground tacking into a narrow mangrove channel in the ICW.... We still managed to find ourselves in FLORIDA BAY MUCK!! Also, last year we exited Florida Bay at Gopher Key near Upper Matecumbe (Islamorada) and spent hours tacking around an eerie string of uncharted red lights that appeared to be on the North side of the ICW. This year we were able to confirm these string of red lights were overhanging power lines but they were clear out of the way, FIVE MILES AWAY TO THE SOUTH OF THE ICW!!! So we had slightly less "hallucinations" this year. Finally, the winds shifted during the last 8 miles of our trip allowing an exhilarating 14mph beam reach to Key Largo. Just before noon on Tuesday, we were greeted at the dock by SwampMonkee & Chainsaw with refreshments and learned they pulled out at Flamingo and only the Hobie16 had arrived at Bay Cove before us. FRED had returned to his homeland to rejoin his family!!
Onboard MissMarie - Day one offshore some time before noon

Us NOT eating Mountain House freeze dryed food at CP1

The condos at Marco Island. That landmark you've been sailing towards all day to head into the Everglades.

Camping at deserted island south of Marco Island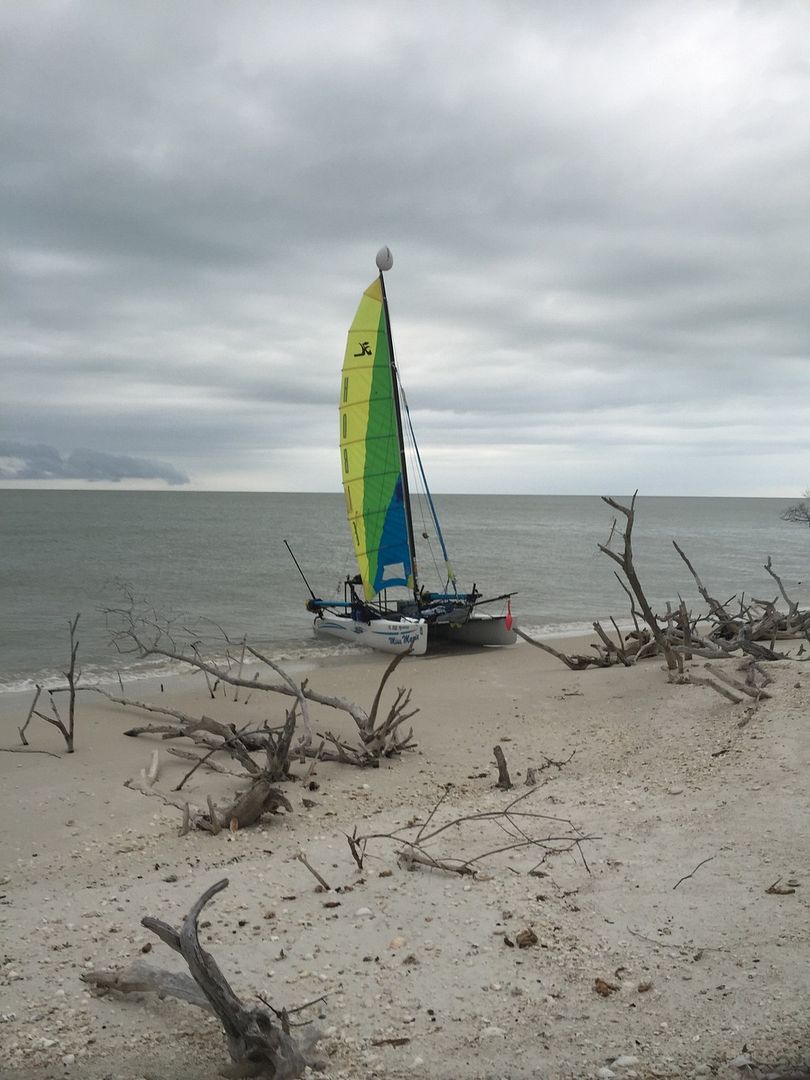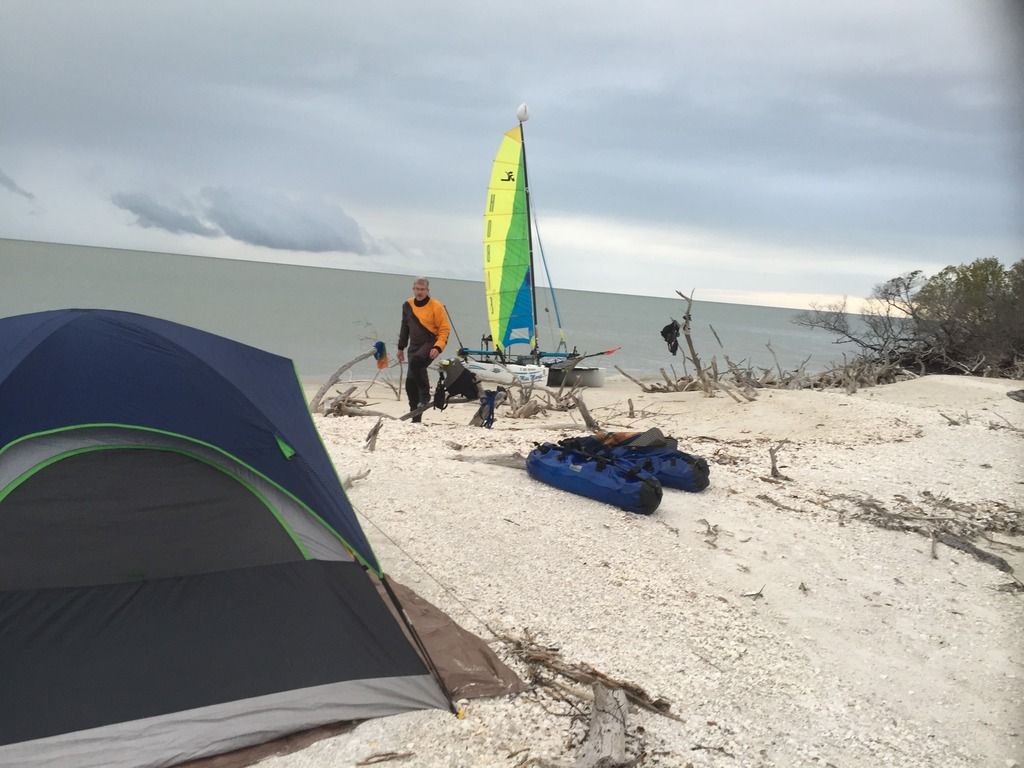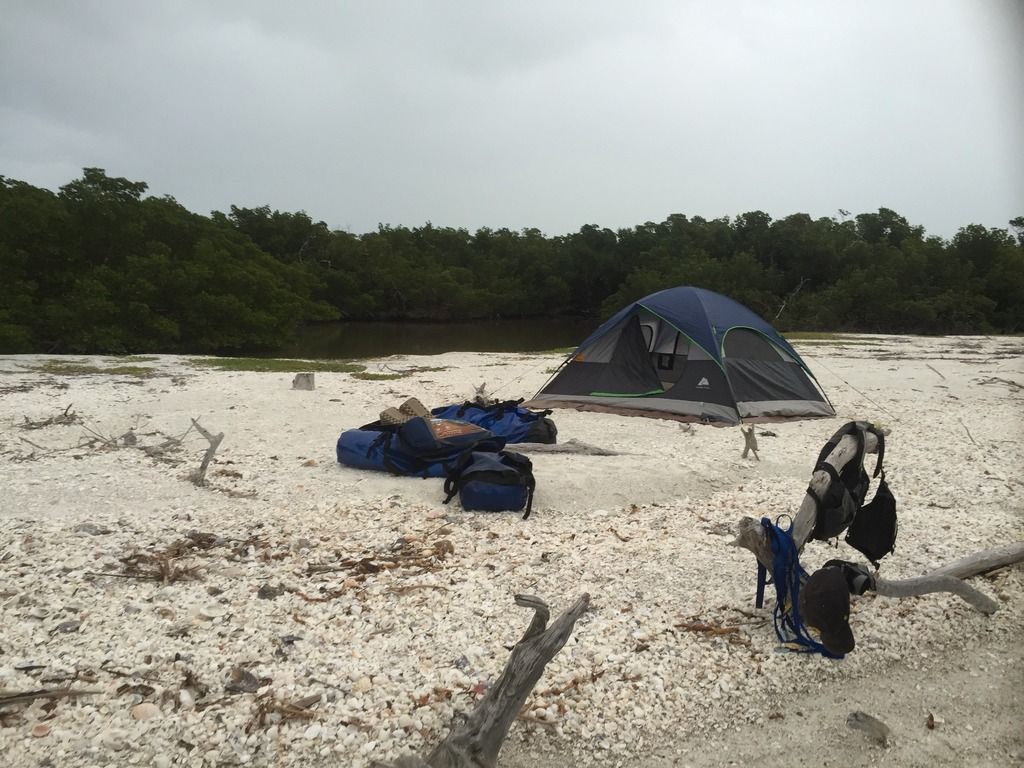 Sunset South of Marco Island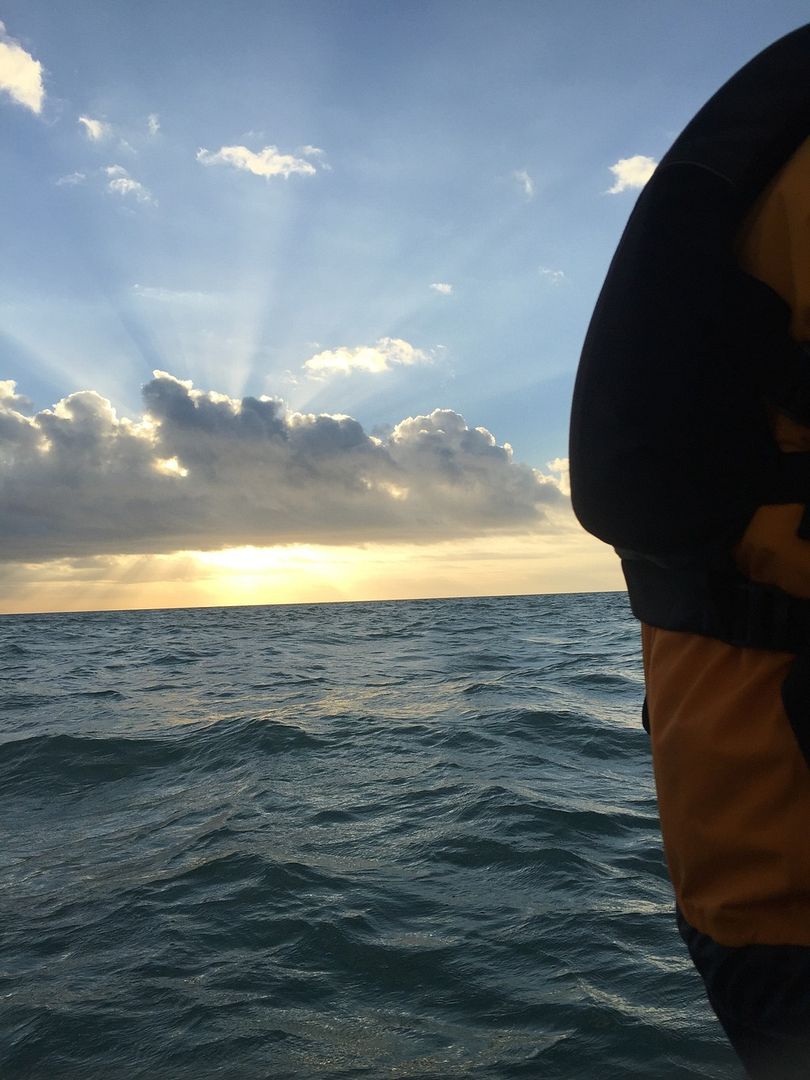 Stoways on trampoline become shrimp cocktail and sushimi aboard MissMarie at sunrise near Indian Key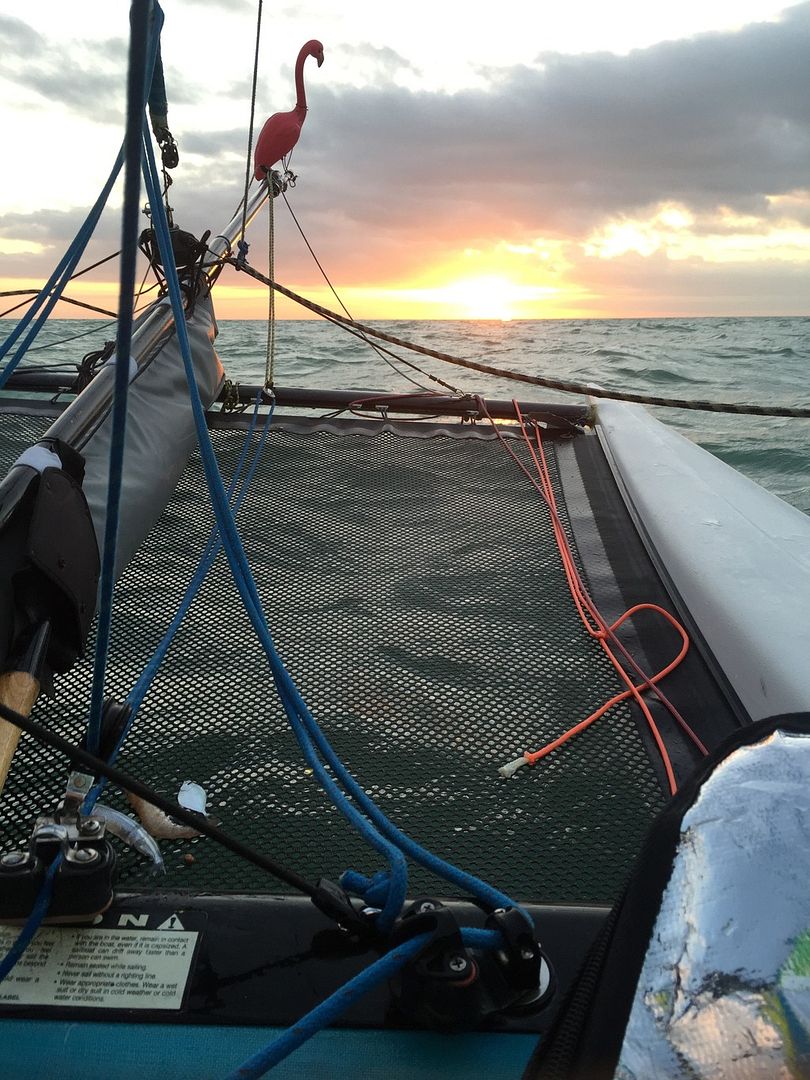 Only after rounding Cape Sable do you "appear" to see a sunset with a Mustache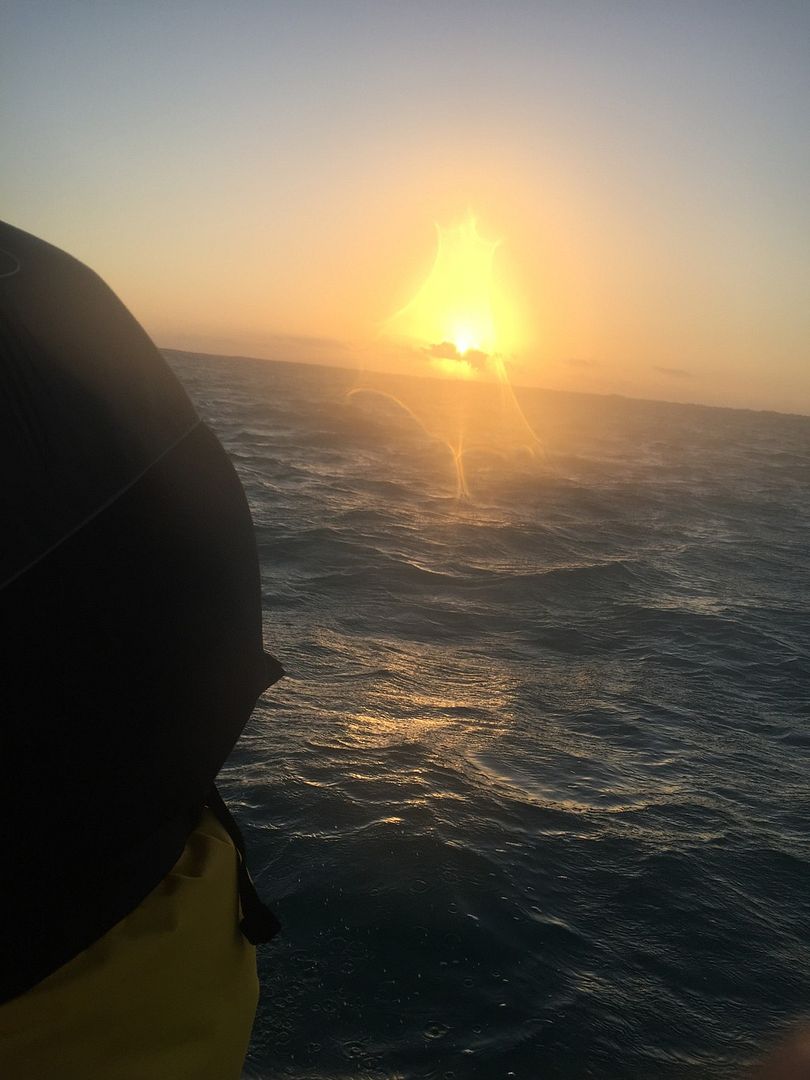 Manatees with Miss Marie at Bay Cove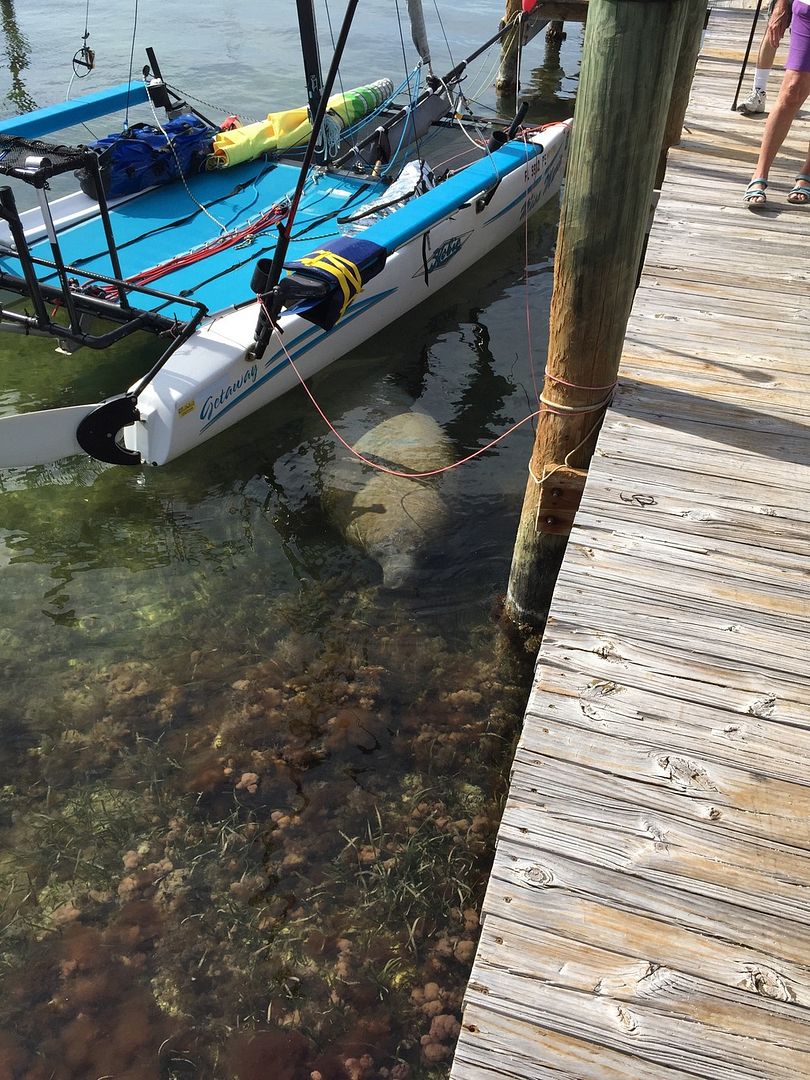 <img src="http://i1175.photobucket.com/albums/r640/ClamCounter/E4EFA552-9BA8-4049-9D9C-BD0DE81E12D7_zpskl0v1zzi.jpg" border="0" alt=" photo E4EFA552-9BA8-4049-9D9C-BD0DE81E12D7_zpskl0v1zzi.